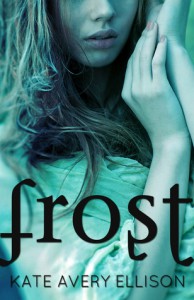 Frost. The word alone conjures up images of snow storms, icy winds, frozen water and barren, shrivelled up trees. Survival is not just a word with three syllables; it's a way of life. For Lia and the people of the Frost. But that's not the worst part. Watchers prowl the forest surrounding the village during the darkest moments of the night and they attack. The only solace are the snow blossoms which somehow keep them away. Lately however, Watchers are evidently crossing the path of snow blossoms.
Living in the village of Iceliss is a day to day chore and to get the weekly supplies of salt, sugar and grain, all of the villagers contribute towards increasing the overall productivity. Lia's family spin yarn and it has been difficult to meet the quota ever since their parents were killed by the merciless Watchers. With a crippled brother, John and a younger sister, Ivy, who likes to wander on her own; Lia now has to shoulder all the responsibility.
Lia fears for her and her siblings' life every waking moment, unable to sleep at times because the Watchers might be close. Their farm is located at the outskirts of Iceliss, near the forest and the Watchers. So it doesn't really help when Ivy insists on helping a wounded and dying Farther.
Farthers are the other enemies of the people of the Frost who live in the village of Aeralis, a far more advanced society than the Frost. But there the soldiers roam freely, killing the innocents mercilessly on the slightest of disobediences. Wrongly accused as a fugitive, the Farther Gabe, was rescued by a member of the Thorns. Thorns are a secret group who help the Farthers escape the wrath of the soldiers.
Will Lia's family be caught or will Gabe escape safely? And what is it that Lia feels when Gabe is near that she doesn't feel with Cole? Why does Adam Brewer seems to be staring at her hard forcing her to recognize something? Is Anna, her best friend and the daughter of the Mayor, hiding something? Lia is beginning to wonder what is real anymore.
Frost drew me in and I loved every second of it. I was pulled into the story from the first sentence. As a lover of winter, the world building of the Frost is done brilliantly by Kate. The secondary characters had depth and a story to tell of their own. I liked Gabe's tenacious will and found Lia to be a very admirable character; strong-willed yet humble. I would highly recommend Frost to the readers of young adult dystopia.